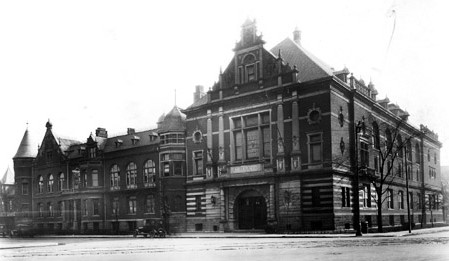 Join Us!
Rehearsals
Regular rehearsals are on Mondays from September through May, from 7 to 8:30 pm in the Damenverein Room of the Athenaeum, 401 East Michigan Street, in Indianapolis.
During the summer, we meet every other week. Visitors are encouraged to come and meet the singers. As you enjoy singing with us, we hope you'll consider the year-round pleasure of rehearsing and performing with us as a member of the chorus. We always post our summer schedule here, just to make it easier to find us.
Cancellations
If inclement weather conditions cause cancellation of a rehearsal or event, WTHR Channel 13 and WRTV Channel 6 will post the notice. Members will receive e-mail.
Member Benefits
The Maennerchor continually seeks men who are interested in being part of this unique voice — the voice of male choral singing in central Indiana. We offer:
Musical development
Personal satisfaction
Camaraderie with fellow music lovers
Performing for an audience
Participation in a long-valued tradition
Improving the quality of our singing calls for faithful attendance at our weekly rehearsals.
New Male Singers are Always Welcome!
Financial Responsibility
Members contribute $100 per year to help underwrite the stipends to the professional director and accompanist, maintain the music library, and cover other expenses. Members are expected to provide their own tuxedos.
Members are also urged to work with the Board to help secure major financial investments from foundations and corporations that can support Maennerchor's outreach and service to the community.
Associate Members
Associate Members shall consist of those persons desirous of promoting and supporting the choir in its purposes. Associate Members are entitled to participate in the social functions of the choir, but are not eligible to participate in or vote at any meeting of the choir.