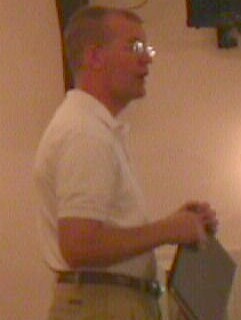 Stories
President's Welcome
Welcome to the website for The Indianapolis Maennerchor!
As the president of the nation's oldest continuously performing male chorus – we performed our first concert in May, 1855 and have given public performances every year since – I'm thrilled you've found your way to our online home. Let me tell you a little bit about our organization.
Founded in 1854 by six immigrants from Germany, the Maennerchor has been a part of the cultural, social, and musical history of Central Indiana longer than any other similar organization. What started out as a group of men singing songs of their homeland quickly turned into a men's chorus, performing folk and art songs.
Over the years, there have been many changes to the Maennerchor. We originally sang all songs in the German language; today, we sing principally in English, but maintain our German heritage by continuing to sing some German songs. We started out as a choir, then transformed into a social organization with a choir; then, became a choir under the sponsorship of the Athenaeum Turners, and finally transformed back into our original format: a men's choir. We've survived two World Wars that alienated our German heritage, as well as the Great Depression, and recent trends of people not to be "joiners" of organizations.
So, why and how do we survive, in today's world that has so many demands on our singers' time and far more distractions to free time than any of our founders would have ever imagined?
Simply put, the men who sing with the Maennerchor do so because they love to sing, and enjoy singing a variety of song styles. Some choirs specialize in certain genres – such as church choirs, or classical choirs, or barbershop groups – but the Maennerchor has remained unique in that it sings all these styles and more! From sacred to classical, from Broadway to folk songs, from contemporary to novelty numbers – our repertoire is as varied as the makeup of the men who sing with the choir.
If you live in the Central Indiana area, and are looking for the opportunity to join with other men, performing in a male chorus, I invite – and encourage – you to come visit us, and see what we're all about. We think that once you've given us a try, you'll discover there's nothing else like singing in a men's choir (which is what the word "Maennerchor" means, by the way!), and like the other men in the chorus, you'll want to make the Indianapolis Maennerchor a part of your life.
William F. Laut, President
Indianapolis Maennerchor